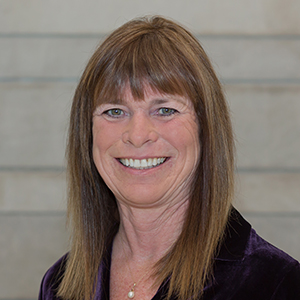 Dr. Mary Dodge, UCCS alum and currently Professor of Criminology & Law in the CU Denver School of Public Affairs, was recently featured on CU on the Air. Dr. Dodge received a BA in Psychology and an MA in Clinical Psychology from UCCS before earning her PhD in Criminology, Law and Society at the University of California, Irvine. She was mentored by Edie Greene, UCCS Professor of Psychology, on her MA Thesis research project. Mary and Edie co-authored the following peer-reviewed publications:
Greene, E., & Dodge, M. (1995) The Influence of Prior Record Evidence on Jury Decision Making. Law and Human Behavior, 19, 67-78.
Dodge, M., & Greene, E. (1991) Juror and Expert Conceptions of Battered Women. Violence and Victims, 6(4), 271-282.
During her studies at UCCS, Mary also worked as a Project Evaluator under the direction of Professor Robert Durham, funded by a grant from the U.S. Department of Health and Human Services.
The following was taken from her faculty webpage at CU Denver:
"Mary Dodge earned her Ph.D. in 1997 in criminology, law and society from the School of Social Ecology at the University of California, Irvine. She received her B.A. and M.A. in psychology from the University of Colorado at Colorado Springs. Her articles have appeared in Courts and Justice, Contemporary Issues in Criminology, International Journal of the Sociology of Law, The Prison Journal, Police Quarterly, Journal of Contemporary Criminal Justice and the Encyclopedia of White-Collar and Corporate Crime. She and Gilbert Geis co-edited the book "Lessons of Criminology" and share authorship on the book "Stealing Dreams: A Fertility Clinic Scandal." She also authored the book "Women and White-Collar Crime." Her research and writing interests include women in the criminal justice system, white-collar crime, policing, prostitution and courts. She teaches a variety of courses, including: Juvenile Justice Administration; Criminological Theory; Judicial Administration; White-Collar Crime; Research Methods; and Women and Crime.
Dr. Dodge was the 2007 recipient of the campus-wide UC Denver Excellence in Teaching Award. She received the School of Public Affairs Teaching Award in 2001, 2005 and 2006, and the School of Public Affairs Research and Creative Activities Award in 2002 and 2004. "